What is HelpMeFleeCa.com?



Jeff Stone was a native Californian who attained success as a small business man owning 6 pharmacies and a respiratory company. He got into politics to bring an "entrepreneurial approach" to running government.
First as the Mayor and Councilman in the City of Temecula (3 terms), then as an elected Riverside County Supervisor ( elected 3 terms) , then as a California StateSenator (elected to two 4 years terms) and then he received a Presidential appointment (second one) to be the Regional Representative of the United States Department of Labor overseeing 10 Western States and US territories. Having private sector success and having served at every level of government, he  finally
concluded that the State of California has become unaffordable (highest collective taxes in the Country), freeways are clogged, and has the highest homeless population  in the Country. Jeff's Dad Charlie was a real estate broker in California that urged Jeff to invest in real estate early in his pharmacy career. After 40 years of successful buying, Jeff and his wife Regina decided almost 4 years ago, that California was on a collision course to financial failure. They sold most of their real estate holdings in California and moved them to business friendly Nevada. Jeff says "It was one of the best decisions of my life"! Jeff decided to study for the Nevada real estate exam and passed with 96% to help Californian's eager to escape the dysfunctional State and move to Nevada that does not have a State Income Tax and  has a part-time legislature making it tougher to emulate California's failed experiments with its socialistic agenda. He created "helpmefleeca.com" to provide a "one stop program" to help frustrated Californians to quickly sell their homes and relocate and buy a home in Nevada. This new venture provides top notch real estate selling professionals in California that are a part of our team, our moving contractors giving significant discounts to our clientele, and experienced  real estate sales professionals to find their dream home in Nevada. Now is the time to embrace a State that will welcome you with open arms instead of picking your wallet and allow you and your family to have a higher quality of life.
If not now, when?
REALTOR® Lic# S.195281.LLC
Thank you for your consideration in allowing me to represent you. I am driven by ensuring that your best interests are always prioritized when buying or selling real estate. A referral to your friends or family is the best compliment you can give me.
SERVING: Las Vegas, North Las Vegas, Summerlin, Sun City, Anthem and Henderson Communities
CONFIDENTIALITY – HONESTY – RELIABILITY
More than 141,000 people moved to Nevada in 2018. How many were from California?
helpme
2021-12-20T18:18:37+00:00
More than 50,000 Californians moved to Nevada from July 2017 to July 2018, the second highest amount in the past 10 years, according to newly released U.S. Census Bureau estimates.
California plays an unparalleled role in Nevada's growth. According to the estimates, nearly four-in-10 people who moved to Nevada from another U.S. state in those 12 months were from California.
"There are more adults in Nevada that were born in California than born in Nevada," said Robert Lang, executive director of Brookings Mountain West at UNLV.
Overall about 127,000 people moved to Nevada from other states and another 14,000 came from abroad. Texas and a collection of western states including Arizona, Utah and Washington, were other major migration hubs.
Much of the Silver State's allure lies in the fact that Nevada has no state income tax and a lower cost-of-living in its major cities than California, Lang said.
"Its a really nice magnet for California," Lang said. "Master planned communities, similar climates, not that far away from relatives."
And more Nevadans move to California each year than any other state. The Golden State offers more specialized, higher-paying jobs for skilled workers, University of Southern California demographer Dowell Myers told the Review-Journal earlier this year.
But the latest migration estimates show the number of Nevadans moving to California dropped to its lowest in the past 10 years. The Silver State lost some 22,400 residents to its western neighbor, about 10,000 less than it did in 2009 and the lowest number in the past five years.
That's likely due to median home prices in population hubs like Los Angeles and San Francico being far higher than in Las Vegas and Reno, Lang said. In October, the median sale price of previously owned single-family homes in Las Vegas was $307,000, compared to $663,000 in Los Angeles and $1.54 million in San Francisco as of September, according to the California Association of Realtors.
"It's very hard to migrate from a lower cost region to a higher cost region," he said. "You could sell a palace in Vegas and wind up in a shack in California."
The influx led the Census Bureau to crown Nevada the nation's fastest-growing state in 2018, and the Silver State ranked second in both 2017 and 2016. The state's population surpassed 3 million people last year, according to Census estimates.
Contact Michael Scott Davidson at sdavidson@reviewjournal.com or 702-477-3861. Follow @davidsonlvrj on Twitter.
Innovative Compounding Pharmacy: Owner, 2000 to Present
helpme
2021-11-15T20:36:13+00:00
Innovative Compounding Pharmacy: Owner, 2000 to Present
Riverside County Third District Supervisor
helpme
2021-11-15T20:59:51+00:00
(January 2005 – December 2014)
Elected to the Board to represent 500 thousand constituents in the 3rd District. This position was a fulltime job which required 3 district offices and 15 legislative staff members. The Third district had the most unincorporated area representing a larger group of citizens. We handled issues relating to health and human services, public safety, environmental, planning/development and infrastructure delivery.
Riverside County is the 4th largest county in California, as a result I was involved in many regional initiatives with neighboring counties and the State of California.
In 2009 during the national economic crisis, I authored the creation of the Save County of Riverside Against Preventable Expenditures (SCRAPE) which required that 49 departments to cut back 10-percent and eliminate waste, while keeping their departments fully operational. This entrepreneurial approach to running the county more efficiently and saved the taxpayers 100 of millions of dollars, which lead to a balanced budget without compromising service delivery to our valued citizenry.
Because of my medical background, I sat on committees relating to the County Hospital, which lead to securing the funding and creation of the first medical school with the University of California-Riverside.
I served as/on the following:
Chairman, Riverside County Board of Supervisors (2009, 2014)
Riverside Conservation Agency (Chairman, 2007, 2011)
Riverside County Transportation Commission (Chairman, 2008)
Western Riverside County Council of Governments (Chairman, 2009, 2014) Coachella Valley Association of Governments (2005-2012)
Southern California Association of Governments (2005-2012)
Riverside Transit Agency (2005-2012)
Joint Committee, County Hospital (2005-2014)
Nevada's amazing landscapes are often overshadowed by the glitter and glitz of its biggest city, Las Vegas. While this is a city you won't want to miss, Nevada is a state filled with incredible natural attractions, scenic drives, small towns, and wonderful opportunities for outdoor activities.
LAS VEGAS
helpme
2021-11-15T18:17:31+00:00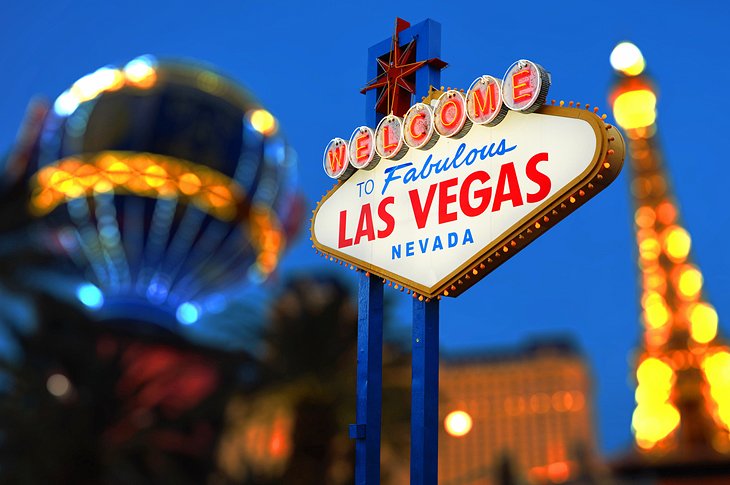 Considered the most entertainment filled two and a half miles in the entire world, the Las Vegas Strip glitters and glows with massive resorts, hotels, theaters, restaurants, and gardens. This famous portion of Las Vegas Boulevard, running from the Mandalay Bay Hotel to the Treasure Island Hotel, is what most visitors come to the city to see and experience.
This is where the huge resorts, like Paris, New York, New York, The Bellagio, The Venetian, and Caesar's Palace are located. Lit up at night, The Strip shows up as one of the brightest spots on earth when seen from space.
Also worth seeing is Fremont Street in old downtown Las Vegas. Draped with a canopy of LED lights, the light show here in the evening, known as the Fremont Street Experience, is a must-do if you have time.
Las Vegas is one of the best places to visit in the US for a quick, action-packed getaway. Flights from all over the country offer easy access, making it a top destination for everything from a girls getaway weekend to a wedding. Families can also find hotels that cater to people traveling with kids, or pet-friendly hotels.
If you want to see more than just the city, you can escape to nature on some beautiful hiking trails near Las Vegas or simply enjoy a day trip to nearby Death Valley National Park or Valley of Fire State Park.
Accommodation: Where to Stay in Las Vegas: Best Areas & Hotels
Read More:
HOOVER DAM
helpme
2021-11-15T18:17:31+00:00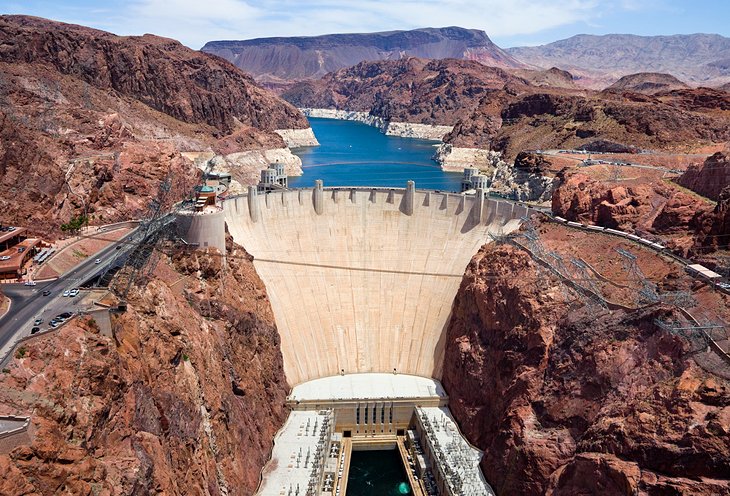 Built during the Great Depression as a way to provide jobs, Hoover Dam is a marvel of modern engineering. The 726-foot-high dam contains Lake Mead, the largest reservoir in the United States, and provides hydroelectric power to much of Nevada, Arizona, and California.
Built on the Nevada and Arizona state line, the dam is just a 45-minute drive from the center of Las Vegas, or a short helicopter flight. You can walk out onto the dam for vertigo inducing views over the edge, or look out over Lake Mead. Tours of the Hoover Dam Power Plant are also available; note that some tours can only be purchased at the dam itself.
Official site: http://www.usbr.gov/lc/hooverdam/
Accommodation: Where to Stay near the Hoover Dam
LAKE TAHOE
helpme
2021-11-15T18:17:31+00:00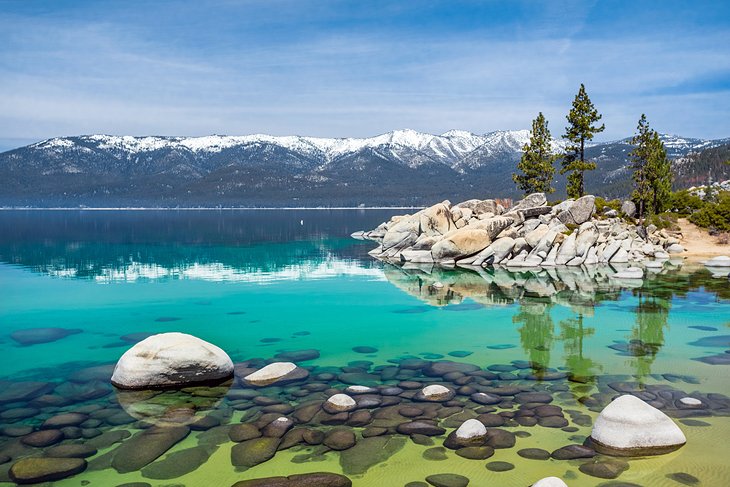 The sparkling blue water of Lake Tahoe, surrounded by often snow-capped mountains, is one of the most beautiful sites in Nevada. This 22-mile-long freshwater lake, high in the Sierra Nevada Mountains on the Nevada and California border, is a popular year-round destination.
In summer, most visitors come here to enjoy the beautiful beaches, hit some of the spectacular hiking trails, or camp at one of the many campgrounds in the area. In winter, families and powder hounds from across the US come here to hit the slopes at the ski resorts in the Lake Tahoe area. Any time of year, you can enjoy the scenery on a lake-side scenic drive.
Several towns around the lake provide good bases for exploring the region. Lake Tahoe is about a three-hour drive from San Francisco, and under five hours from Yosemite National Park. From Reno, you can reach the north end of the lake in about 45 minutes.
Accommodation: Where to Stay near Lake Tahoe: Best Areas & Hotels
LAKE MEAD NATIONAL REC AREA
helpme
2021-11-15T18:17:31+00:00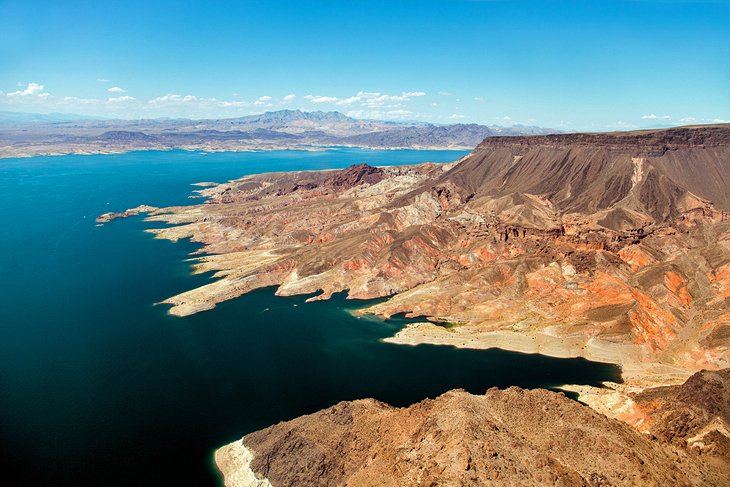 On the shores of Lake Mead and Lake Mohave, Lake Mead National Recreation Area encompasses some spectacular scenery and offers convenient access points and a variety of services for enjoying the lake and surroundings.
This huge area, encompassing approximately 1.5 million acres, provides opportunities for beaching, boating, hiking, camping, and much more on the shorelines and in the surrounding mountains and canyons.
The most popular section is Boulder Basin on Lake Mead, just north of Hoover Dam. Boulder Beach is a popular place for a swim or to set up a lawn chair on a hot day. Campgrounds in this area offer a beautiful setting for both tents and RVs.
Also in this area is the Historic Railroad Trail, where hikers can walk along the old railway bed and through the old tunnels. If you are looking for information, stop by the Alan Bible Visitor Center in this area, about 40 minutes from Las Vegas.
Official site: https://www.nps.gov/lake/index.htm
VALLEY OF FIRE STATE PARK
helpme
2021-11-15T18:17:31+00:00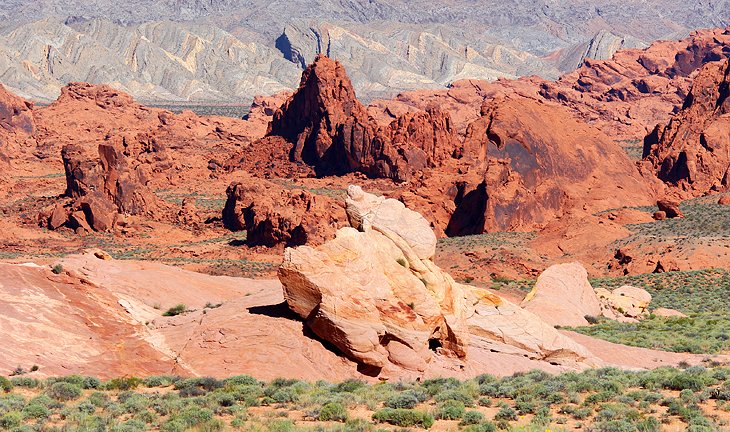 Valley of Fire State Park is one of the most striking natural areas in the state. Dramatic rock formations and sweeping vistas of colorful stone waves create some of Nevada's most dynamic landscapes. Just an hour's drive northeast of Las Vegas, it's worth making the trip out here.
If you are only interested in a scenic drive, roads through the park provide stunning views of the landscape. However, one of the best ways to experience the park is from the hiking trails. These hikes are generally short and easy, but take you through some incredible scenery, including slot canyons, rock walls covered in petroglyphs, old filming locations, and other spectacular sites. You're also likely to spot some wildlife.
Camping is popular at Valley of Fire, and the campgrounds are strategically placed in beautiful settings among the rock formations.
Official site: http://parks.nv.gov/parks/valley-of-fire-state-park/
Accommodation: Where to Stay near The Valley of Fire
RED ROCK CANYON NATIONAL CONSERVATION AREA
helpme
2021-11-15T18:17:31+00:00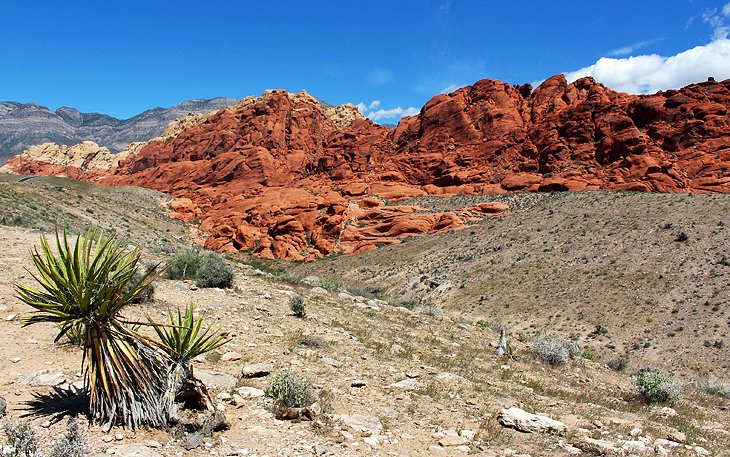 Located just outside of Las Vegas, Red Rock Canyon National Conservation Area is one Nevada's most popular hiking areas. The massive red rock formations jutting high above the Mojave Desert are the most striking feature, but the area covers a diverse range of sites and geological formations. Box canyons, mountains, and a look at the Keystone Thrust are some of the highlights.
A 13-mile scenic drive through the park offers a look at some of the sites, but hiking trails in Red Rock Canyon offer the best access to all of the major sites. Rock climbing, road biking, mountain biking, horseback riding, picnicking, and wildlife viewing are also popular activities here.
The conservation area has one developed campground with primitive facilities.
Official site: http://www.redrockcanyonlv.org
Accommodation: Where to Stay near Red Rock Canyon National Conservation
RENO
helpme
2021-11-15T18:17:31+00:00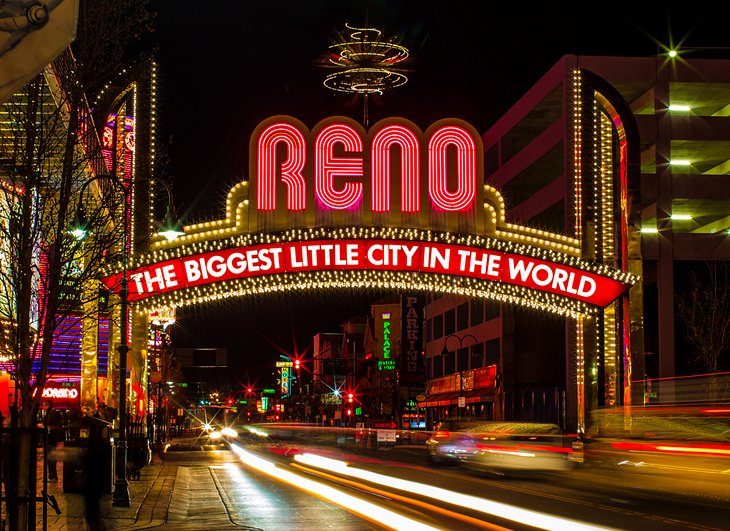 Reno is the second largest city in Nevada after Las Vegas in terms of population, but is still relatively small and home to only approximately 250,000 residents. However, for a small city, it has a surprising number of impressive attractions and events for tourists.
Reno hosts the annual National Championship Air Races, The Great Reno Balloon Race, and the Hot August Nights car convention, along with a number of other popular annual celebrations. Reno is also home to the National Automobile Museum and several other interesting museums.
If you have time for a day trip or excursion, Lake Tahoe is less than an hour away.
GREAT BASIN NATIONAL PARK
helpme
2021-11-15T18:17:31+00:00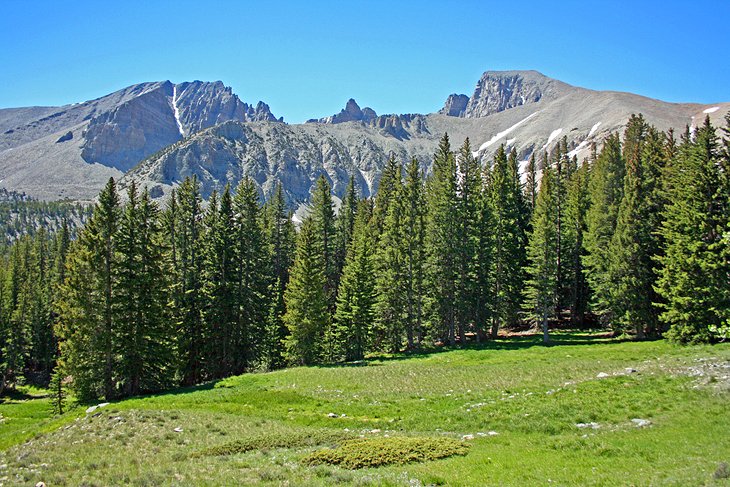 In east-central Nevada, near the border with the state of Utah, Great Basin National Park protects nearly 80,000 acres of basin and range landscape. The park is dominated by the 13,063-foot Wheeler Peak and underlain by the Lehman Caves.
It also protects Bristlecone Pines that are nearly 5,000 years old. The park offers a number of developed camping sites and a wide range of backpacking opportunities. The Wheeler Peak Scenic Drive is a must do as is the Baker Creek Road – but not in the winter. The park lies next to the massive Highland Ridge Wilderness area.
Official site: http://www.nps.gov/grba/index.htm
BURNING MAN
helpme
2021-11-15T18:17:31+00:00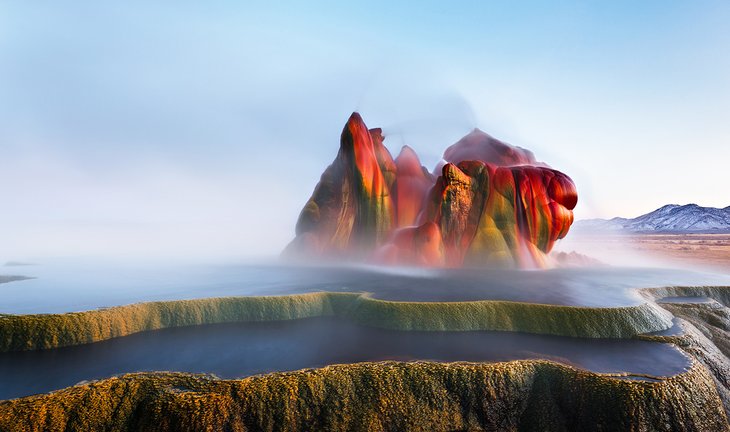 This pop-up city in the desert is a community based, annual event held in the Black Rock Desert, about three hours north of Reno. This unique event focuses on art and self-expression in many forms, and attendees are expected to be involved rather than merely spectators. The people and the atmosphere of sharing and community are what make the experience.
Held in late August and early September, Burning Man began in 1986 and has grown considerably over the years. Today, tens of thousands of people attend. Attendance levels are capped each year, and tickets sell out.
The Burning Man Festival purchased the Fly Geyser Ranch in 2016. On this property is the Fly Geyser.
Official site: https://burningman.org/
LAMOILLE CANYON
helpme
2021-11-15T18:17:31+00:00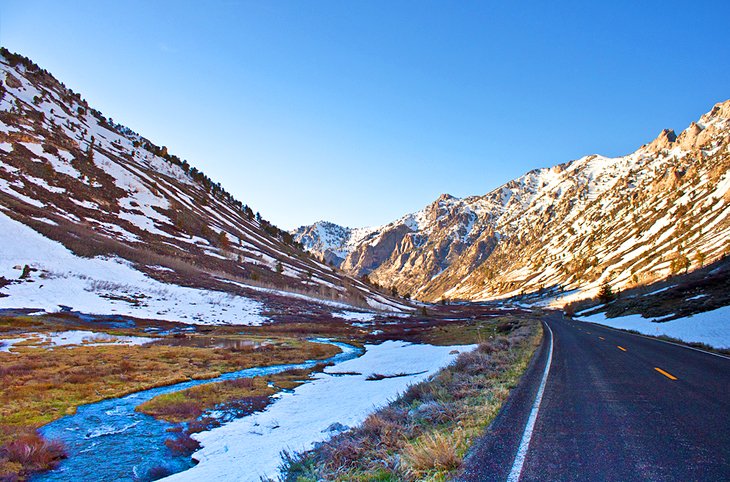 Lamoille Canyon lies at the heart of Nevada's Ruby Mountains in Elko Country. The Lamoille Canyon Road is an officially designated National Forest Road that winds around the base of the 11,387-foot Ruby Dome.
The road climbs up into a spectacular 8,800-foot-high canyon that was carved long ago by glaciers. During the summer, the alpine meadows explode with wildflowers. The area is also known for its waterfalls and wildlife, with bighorn sheep, mountain goats, and a variety of birdlife frequenting the hills and meadows.
The lower region of Lamoille Canyon is open year-round, but the upper section is buried under snow for several months in the winter. Popular things to do here, apart from the scenic drive, include camping, fishing, hiking, and in the winter, heli-skiing.
Accommodation: Where to Stay near Lamoille Canyon
MOUNT CHARLESTON
helpme
2021-11-15T18:17:30+00:00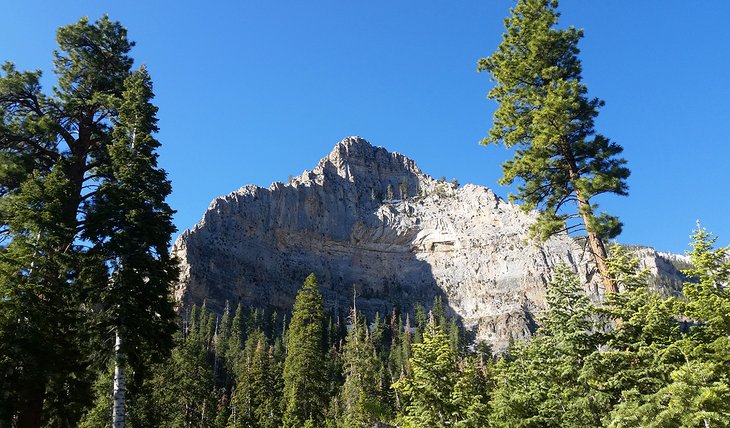 Like its neighbor to the west, California, Nevada is one of the few places where you can downhill ski in the morning and sit by the pool in the afternoon. Perhaps the easiest place to give this a try is in Las Vegas.
In less than one hour, you can transition from the warm, dry desert floor to a winter wonderland up on 11,916-foot-high Mount Charleston at the Lee Canyon Ski Resort. Here, you'll find a fun and funky resort with 26 runs and three lifts. The resort gets an astounding 11 feet of snow per year and is a great spot to try skiing in Nevada.
However, Mount Charleston isn't all about snow. In the summer, it's a delightful escape from the heat of the valley floor below. Up here, among the tall pine trees, you'll find pleasant hiking trails, waterfalls, and the wonderful McWilliams campground.
PAY 7.2% MORE FOR RESTAURANTS
helpme
2021-11-15T19:04:02+00:00
PAY 13.6% MORE FOR GROCERIES
helpme
2021-11-15T19:02:31+00:00
PAY 52.3% MORE FOR HOUSING
helpme
2021-11-15T19:50:45+00:00
PAY 22.6% MORE FOR ENTERTAINMENT AND SPORTS
helpme
2021-11-15T19:41:55+00:00
PAY 7.3% MORE FOR CLOTHING
helpme
2021-11-15T19:42:59+00:00
PAY 0 STATE TAX IN NEVADA
helpme
2021-11-15T20:22:42+00:00
TAXES
helpme
2021-11-16T18:40:09+00:00
Unlike California, Nevada has a more appealing system of taxes for its residents. Californians can forget about a state income tax they had to pay as well as pay less for food and medicine because there is no sale tax on these goods too.
GROWING JOB MARKET
helpme
2021-11-16T18:43:18+00:00
Despite a widely known fact that in Nevada you can work only in a casino, hotel or restaurant, in fact, the modern job market is more extended. Nowadays, the most popular job spheres are mining, construction, and education. Moreover, according to the data of the US Labour Department, in 2017 Nevada had a top employment growth rate all over the country – 3.3%. The highest number of jobs were offered in business services, health care, and transportation.
BEAUTIFUL SCENERY
helpme
2021-11-16T18:43:50+00:00
Nevada is a home to the most eye-catching scenery in the country. Its main feature is the diversity of landscape and a possibility to experience all 4 seasons in the state. The southern part is hot and partly covered with a dessert, in the center you can find a magnificent canyon, mountainous areas, and deep lakes and rivers. There are unforgettable caves, state parks, relaxing beaches, and peaceful valleys to meet the expectations of every traveler.
COST OF LIVING AND HOUSING
helpme
2021-11-16T18:44:14+00:00
Despite the fact that the cost of living in Nevada is 4% higher than the US average one, it is still much more affordable than in California. Here you can save on utilities that are much cheaper as well as obtain a dwelling that is thrice cheaper than in the Sunshine State. A median home price even in Las Vegas, the most expensive city to live in Nevada, is only $256,300. In Los Angeles, the sum is almost three times higher – over $600,000.
GAMBLING
helpme
2021-11-16T18:44:38+00:00
Who does not know that Las Vegas is a gambling capital not only of the US but also the whole world? Every person dreams at least once in his life waste a huge sum of money there and win a fortune. It is absolutely legal to gamble here not only in casinos but also in many other places – slot machines are almost everywhere there.
ENTERTAINMENT
helpme
2021-11-16T18:45:15+00:00
You will not feel dull in the state not only due to unforgettable gambling experience and many outdoor activities but also doing premium shopping, tasting delicious food or visiting multiple concerts, shows, sports events that take place both in Las Vegas and Reno.
However, there are several more things you need to know before moving to Nevada apart from the benefits.
Here are a few things people have said about Jeff:
"Jeff is a reformer," Supervisor Kevin Jeffries said Tuesday during Stone's last meeting on the Riverside County board. "Jeff wants government to act the way it should and respect the residents and respect the taxpayers."
Supervisor John Tavaglione credits Stone for helping trim county costs during the Great Recession.
"He really took the bull by the horns to keep county agencies accountable for savings," Tavaglione said.
Direct: (951) 250-2550
jeffreystone702@yahoo.com
jeffreystone.myrealtyonegroup.com
helpmefleeca.com
2831 St. Rose Pkwy #100 Henderson, NV 89052